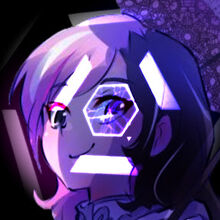 Promethium45
Edit
Alpha | Promethium45 was one of the most experienced players of the community, the best pack developer with Hexadorsip, the Speed Master since June 2015, the Luck Master since November 2014, one of the owners of the OH Discord Server and a important member of the Open Hexagon Elite.
Alpha | Promethium45 stopped his activity in May 2018, and have been kicked out of the Elite the 4 of this very month as well.
Creations
Edit
Here are some level packs Alpha have made. There exists 14 so far, all for version 1.92.
POLYGONAL TRILOGY
DEDICATION ALBUM
MORE HERE : Alpha packs
Collaborations
Edit