Swapping
Edit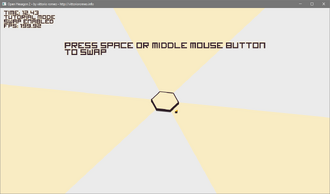 Swapping is a game mechanic that allow players to rotate 180 degrees. Introduced in 2.0 BETA5 version
The default key for a swapping is Space or Middle Mouse Button.
Swap have 0.5 seconds delay.
Level editing
Edit
Swapping can be enabled by setting "l_setSwapEnabled(true)" in level script.
Swapping not available in 1.92 version, but can be implented by making the script that will toggle "radius_min", "pulse_min", "pulse_max", or "beatpulse_max" level values from positive to negative.